While relaxing in a chair outside his home, David Oppenheimer was taken aback by what he saw. A black bear was standing right next to him, just feet away.
He jumped, clutching a large pillow on his lap. The sudden movement caused the bear's head to snap up and look at him.
But the bear, even though it is bigger and has considerably sharper teeth and claws than Oppenheimer, appeared to be just as startled as he was.
The whole scene was captured on a Ring doorbell camera outside Oppenheimer's home in Asheville, North Carolina, on the evening of April 11.
"I was concerned, because I didn't know how it was going to react," Oppenheimer told McClatchy News. "… it was looking at me for a long time, so I figured it was either going to go away or come toward me. I just was hoping for the best."
VIDEO:
The video shows the bear and Oppenheimer staring at each other for a few seconds before the bear grunts and darts away.
"It didn't really seem threatening, it was almost more puzzled," Oppenheimer said. "I was trying just to stay calm, but I was definitely frightened."
Oppenheimer said he and the bear made direct eye contact, though he'd heard people aren't supposed to stare straight at bears.
Living in a neighborhood that's full of bears, he said he's read a lot about how you're supposed to act when you come across different bear species in the wild.
David Oppenheimer often photographs bears in his backyard in Asheville, North Carolina. David Oppenheimer
For example, if you're attacked by a grizzly bear you're supposed to lay on your stomach and play dead. But if a black bear does a bluff charge, you should hold your ground, stay calm and slowly retreat while talking to it in a soothing voice.
You also don't want to get between a mama bear and her cubs or stand under a tree if bears are climbing in it, he said.
David Oppenheimer said he often sees black bears climbing trees in his backyard. David Oppenheimer
In Oppenheimer's neighborhood, though, bear sightings are common, but attacks are extremely rare.
"There are so many bear encounters here on a daily basis," he said. "And the amount of times that bears have actually hurt somebody … it just doesn't really happen."
He said he often sees bears hopping on people's trash cans, climbing the dogwood tree in his backyard, standing on their hind legs to shake his bird feeders, and helping themselves to drinks of water from the bird bath.
Oppenheimer enjoys seeing the bears and even sells prints of his bear photography.
"They're kind of mysterious in their ways," he said. "You can see the way they take care of their kids, and the way the cubs interact. They're friendly and cute. They're photogenic. It's fun to watch them."
Even though he's not afraid of the bears in his neighborhood, when the one approached him as he was sitting outside, he was a little nervous.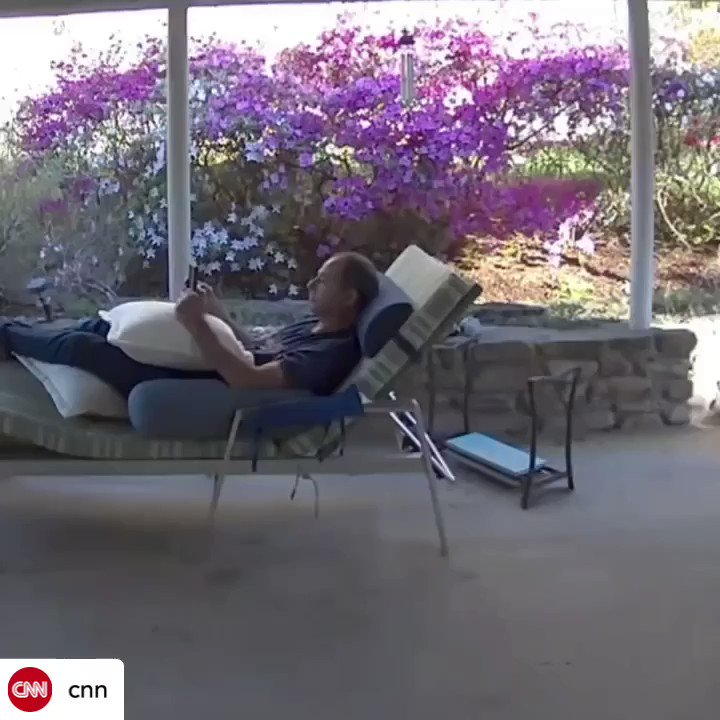 "The bears in this neighborhood do not really attack people, but I thought, being this close and in this unusual situation there's that unknown," he said. "In the moment I was just thinking, 'I'm not supposed to look at it in the eyes, but it's looking right at me.'"
When the bear finally ran off after those few tense seconds, Oppenheimer said he was relieved.
Based on the bear's reaction in the video, the experience was just as odd for it as it was for Oppenheimer.
"It's like, 'Oh, there's a human in this chair,'" Oppenheimer said.
Black bears are found across 60% of North Carolina, according to the state Wildlife Resources Commission. They emerge from their hibernation dens in March or early April.
There has been an increase in bear sightings in North Carolina as the bear population has increased and people have moved closer to bear habitats.
Madeleine List is a McClatchy National Real-Time reporter. She has reported for the Cape Cod Times and the Providence Journal.