In 1984, Michael Jordan secured his now-iconic $2,500,000 contract with Nike, giving birth to the immensely popular 'Air Jordan' brand. This groundbreaking deal evoked jealousy even in the greatest point guard of all time, Magic Johnson. However, despite their respective feelings of envy, Jordan and Magic share a deep friendship that blossomed during their time together on the 1992 Olympic Dream Team. Their bond is so strong that Johnson openly expressed his admiration for the Jordan brand on Jimmy Kimmel Live in 2016, going as far as refusing any financial compensation for endorsing it.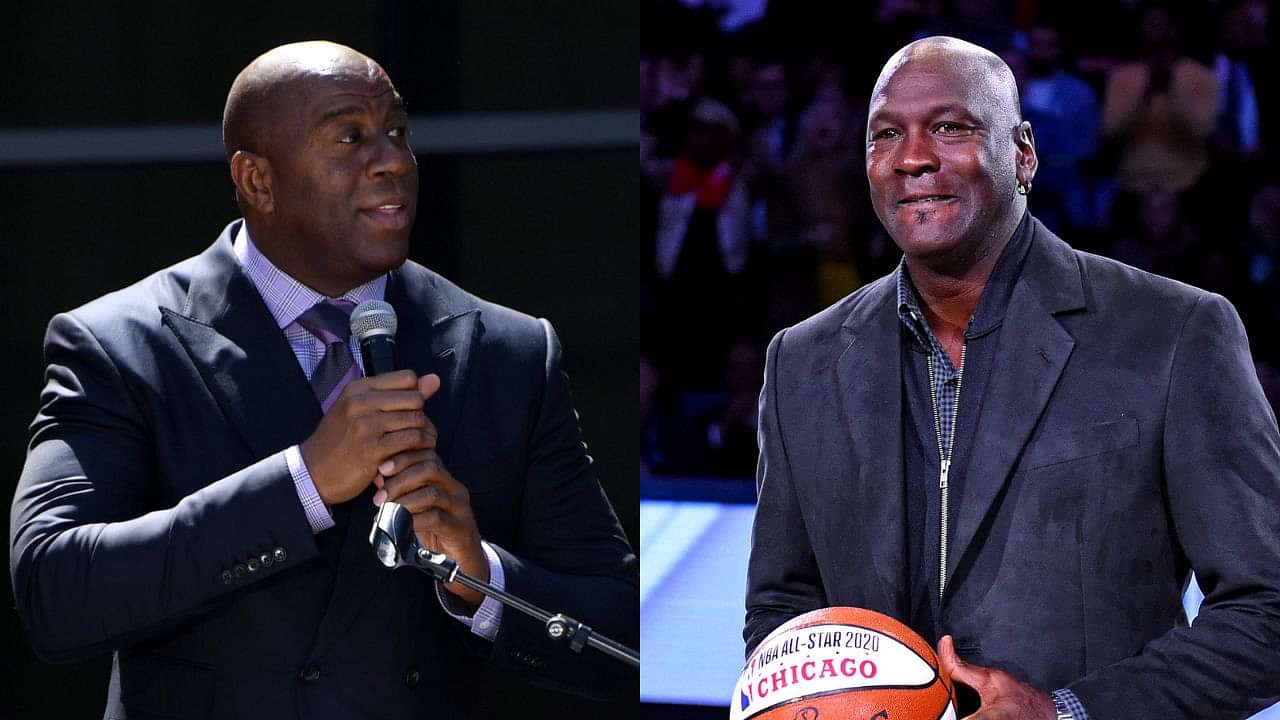 They are now great friends, but that wasn't always the case for His Airness and Magic. There was a point in time when the two actually had a hostile relationship. This was epitomized during the 1985 All-Star Weekend, where Magic and Isiah Thomas allegedly conspired to ensure that MJ was humiliated in front of the whole world.
Magic Johnson admitted his love for Michael Jordan and the Jordan Brand despite initial jealousy
Magic Johnson is one of the richest athletes on planet Earth. For his net worth of $620 million, Magic can thank his numerous endorsement deals and business investments for his empire. However, there was one deal he missed out on that he greatly regrets.
Back in the day, Johnson was approached by Nike. The apparel company offered him $1 for each pair of shoes sold if he signed with them. Unconvinced, the five-time NBA Champion went with Converse. A few years later, he jealously watched as Michael Jordan signed a $2,500,000 deal that led to the establishment of the Jordan brand. A brand that has earned MJ more than $1.3 billion so far.
But, despite this, Magic is still a huge fan of the brand. He even admitted to Jimmy Kimmel that he regularly calls Jordan to ask for some free shoes and clothes. And, when asked why he doesn't get paid for endorsing the brand, he claimed he did not want to take his good friend's money.
Magic: "Michael Jordan and I are friends, and I call him all the time because I like his Brand Jordan sneakers and clothes!".

Kimmel: "And he sends that to you?"

Magic: "For free!"

Kimmel: "Shouldn't he be paying you to wear those shoes and clothes around?"

Magic: "Well you know…when you good friends you don't care about his money…I just want the clothes and the sneakers!"
It has been seven years since Magic appeared on Jimmy Kimmel Live, and 39 years since Nike and Jordan signed their historic deal. And, through it all, they have still remained close friends.
Jordan was one of the first people Magic called upon learning of his HIV diagnosis
In 1991, Magic Johnson announced that he is diagnosed with HIV. It was heartbreaking news and one that forced Magic into retirement. But, upon initially receiving the news, the Laker legend shared the information with very few people. And, one of the first people in the NBA he called was Michael Jordan.
Jordan won his first of the 6 championships against Magic Johnson's LA Lakers in 1991. Despite facing defeat, Magic went on to hug the Bulls star to congratulate him.
It just goes to show how close the two were at the time. And, they still remain close to this day. Even after 32 years, they two have a great relationship and are incredibly good friends.