Before his NBA career skyrocketed in 1984, Michael Jordan had already developed a keen interest in golf. During this early phase, he had a clean and controlled history with the sport, far from the infamous gambling controversies that arose in the 90s, leading to a staggering $1,200,000 debt. Even without extravagant wagers, at the age of 23, MJ remained fiercely competitive on the golf course, showcasing the same drive and determination that defined his illustrious career.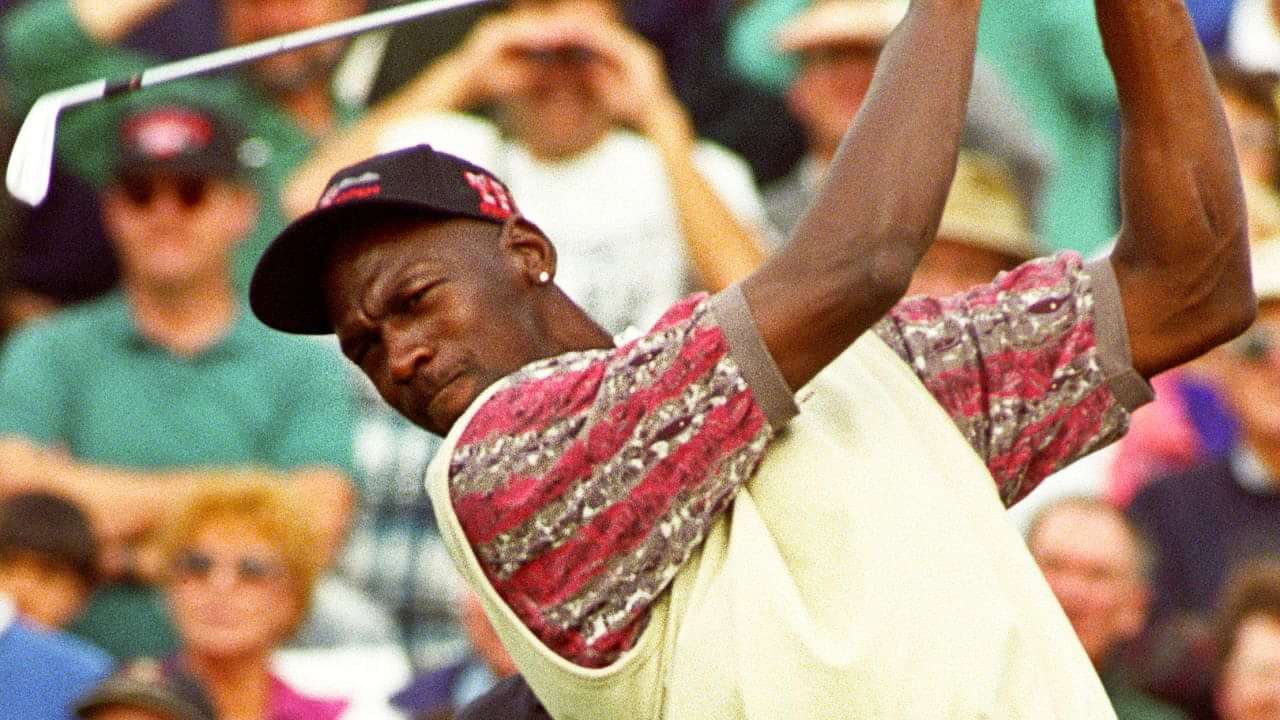 In a charity golf tournament in 1986, Jordan beat the pros in golf to earn a $1000 cheque. The challenge was getting the ball closer to the hole to compete against the game's pros. The Chicago Bulls superstar managed to do that and beat the best golfing stars in the tournament. This proves Jordan's competitive spirit was always present in every aspect of his life.
Michael Jordan was easily one of the best golfers among NBA stars. Jordan arguably had the potential to compete as a pro, given his exceptional talent in the sport. However, Stephen Curry seems to be giving Jordan's golf legacy a run for its money in recent times.
Michael Jordan once beat the pros of golf to win a $1000 check for charity
Michael Jordan made sure that he never left his competitive spirit behind. Whether in basketball or in a charity golf tournament, it's impossible to imagine anyone taking the great Bulls legend for a ride. At 23, Jordan proved his abilities in golf by beating pros at a charity tournament in 1986. Jordan admitted that he had practiced for two months and had everything in him to reach the greens at Kemper Lake Course, Chicago. The rare footage of the tournament was uploaded on YouTube by the channel Unseen Jordan.
The interviewer for Channel 5 tried to test Jordan's confidence by telling him he sounded cocky. But an undeterred Jordan had the perfect reply ready for the moment. For him, his shot from the putt was equal to a dunk. Here's how the interaction went:
MJ: "I'm ready. I've been practicing, I'm ready… [I am] confident, not cocky. I've been playing for two months now. I mean, I think my wedge and my 9-iron, its the best clubs. And that's when we use on this one."
Host: "One shot, no Kareem Abdul-Jabbar behind you" 
MJ: "It's a dunk shot to me, no problem."
Jordan could be seen hitting a 150-yard shot over the lake and into the greens, just one-and-a-half inch from the hole. When asked if anyone could beat his shot, Jordan calmly said:
"The pressure's gonna be on them. The pressure's different to do this. It's a fun game, it's a pressure game."
Jordan's incredible shot and closing distance to the hole earned him a $1000 cheque as the week's pro. After winning the cash prize, he donated it to his favorite charity, the Starlight Foundation. Michael ended up humbling all the pros in the tournament despite being a basketball player.
Michael Jordan's obsession with golf led him to start gambling
Jordan had found a new obsession with golf, just like basketball. One could always find him golfing with the same competitive fervor off the court. However, this competitive aspect turned sinister when he started gambling on his games.
Michael Jordan's wagers on his games had turned into pretty much of an addiction in the 90s. This led him to severe controversies, including a Federal investigation and a $1,200,000 debt to Richard Esquinas. To this day, Esquinas accuses MJ of not clearing his debt, despite being $2 billion in net worth.