LeBron James, at an impressive 38 years old, continues to defy expectations and show no signs of slowing down. As the first overall pick in the 2003 draft, he has had an illustrious career and remains a dominant force in the basketball world. While many of his peers have retired, James is determined to make history as the first active father-son duo in the league, with his son Bronny James set to join next year.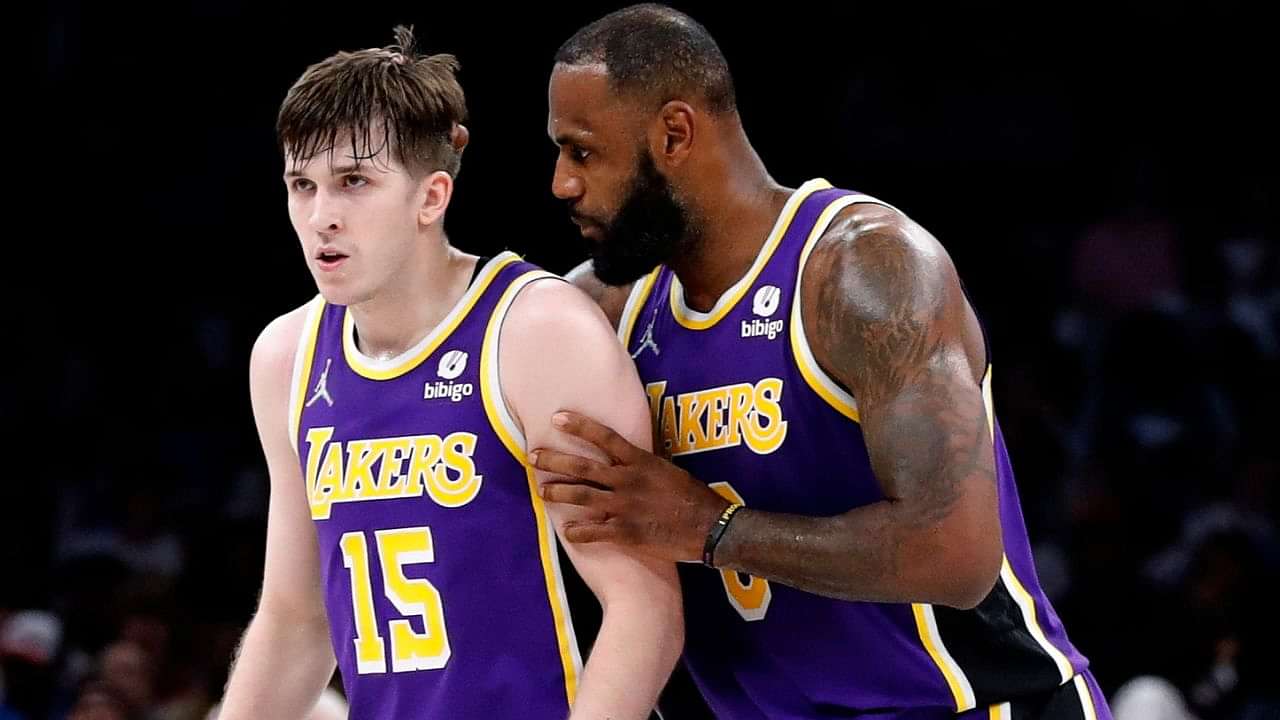 In the meantime, James seems to have found a promising protege in Austin Reaves, who is showing great potential under his mentorship. With his talent and leadership, LeBron James continues to be an inspiration to many and leaves a lasting impact on the sport of basketball.
Playing with his son is not the only record he may set in the near future if Andre Iguodala is not signed to a contract before the start of the 2023-2024 NBA season. This event would make LeBron the oldest active player in the NBA at 38 years and 200 days old.
One can only assume this sheer tenure of play could have taken a mental toll on James' mind but according to reports from other players, this doesn't seem to be the case. LeBron still has the same energy and drive he possessed on day 1 and apparently acts like a teenager in the locker room.
Austin Reaves talks about LeBron James in the locker room on a podcast
Austin Reaves has become the Los Angeles Lakers' resident young superstar. A new fan-favorite of the fans, Reaves' play has become vital to the team's success, with him even hitting a few clutch shots in the playoffs. LeBron James himself has seemingly taken Austin under his wing and has become his mentor.
James can often be seen coaching him through plays on the floor and Reaves looks to be a willing mentee. Who wouldn't be when being under the tutelage of arguably the greatest player of all time?
Throughout his career, LeBron has made a name for himself as an easy-going personality off of the NBA hardwood. There have never been reports of locker-room misconduct from 'The King' and Austin Reaves may have provided us with the reason why.
Talking about James on the All The Smoke podcast, Austin said, "He acts like a damn kid. He acts like he's 18. I never really see him in a bad mood, always joking, laughing, and having a good time. For someone that you put on a pedestal because he's done what he's done, for him to be just so personable."
LeBron is obviously able to separate his stress from games and his general social status from the locker room sanctuary and overall seems to be a very amicable teammate and veteran.
Reaves added, "You could talk to him about anything. You could have a good conversation with him, you could joke around. The best thing about him is he comes to work every day happy."
The pothole most NBA players fall into after a significant amount of years into their career, is that they lose their original love for the game of basketball. This reflects on their play and even in the interviews, they give. One thing no one can ever say is that LeBron James doesn't love to play the game of basketball. The Chosen One is here to stay and the NBA community is grateful to have such a leader.